Home
For a long time, my purpose as an artist has been to bring a smile to people's faces
But now, my purpose as an artist is also to help promote mental health awareness
My name is Cari Miller. I am an award-winning artist and my art can be found in homes and offices around the world. I also have Bipolar Disorder 2 (formerly known as manic-depressive disorder) with generalized anxiety disorder along with mild PTSD. I am in talk therapy and on meds but every day is a struggle. In 2020 I was in a very long depressive state. Except for a brief period in that summer, I completely stopped painting.
A few months ago a good friend recommended drawing a quick sketch every day, if possible. The result is this collection of drawings I have been making since May 16, 2021. I am posting  some of the most recent ones that chronicle the way I feel at the time I do the sketches. If you relate to some of these, I hope it makes you feel less alone. And if you don't, maybe it will give you insight into the head of someone with a mental illness. (If you'd like to use any of these images, please ask for permission as this is my original artwork.) #youarenotalone #endthestigma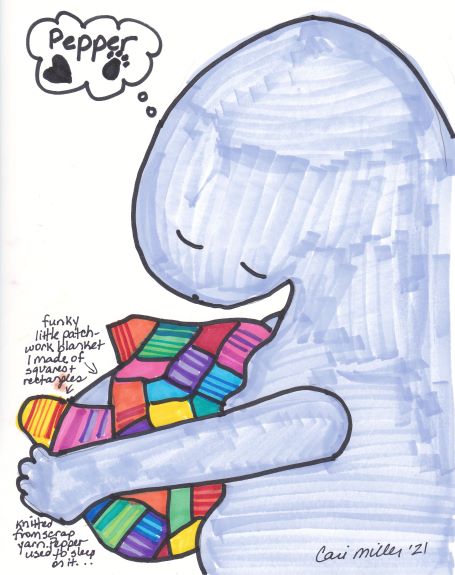 10/25/21, "Whatever Brings You Comfort", Marker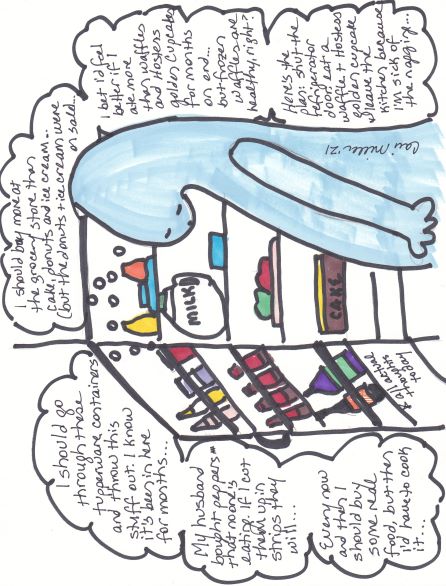 10/25/21, "Kitchen Guilt Trip", Marker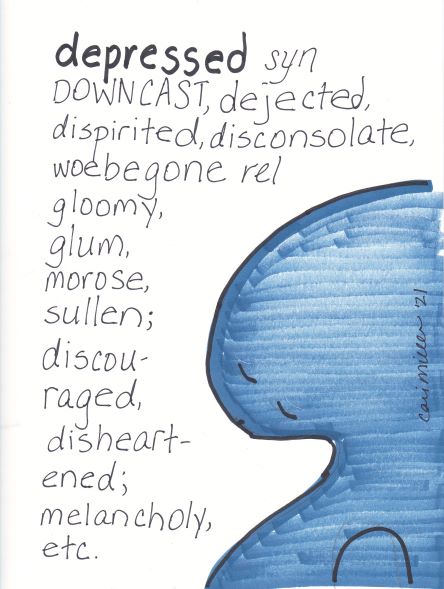 10/25/21, "Depression, Thesaurusized", Marker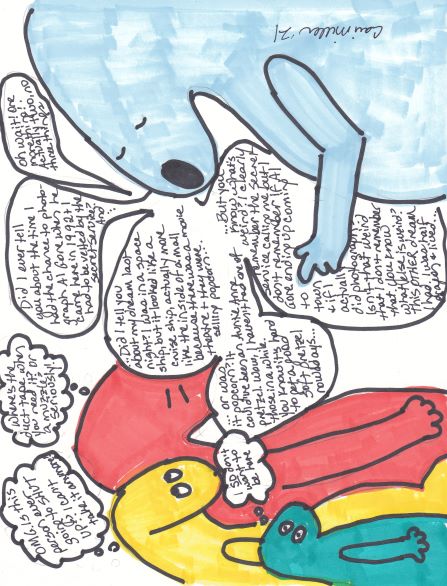 10/17/21, "Bipolar Talkativeness", Marker
 For many, many more please go to the "Daily Drawings" menu on the right -- they are organized by month
Oh! And I love postcards!
That's why I sell more than 50!!! unique reproductions of my artwork and photos in my Etsy shop. Like these new ones! Postcards are 4x6"  and cost $3 for a set of 3 design and FREE SHIPPING!!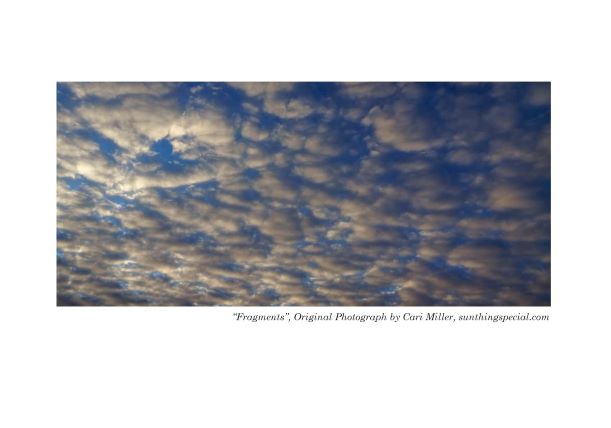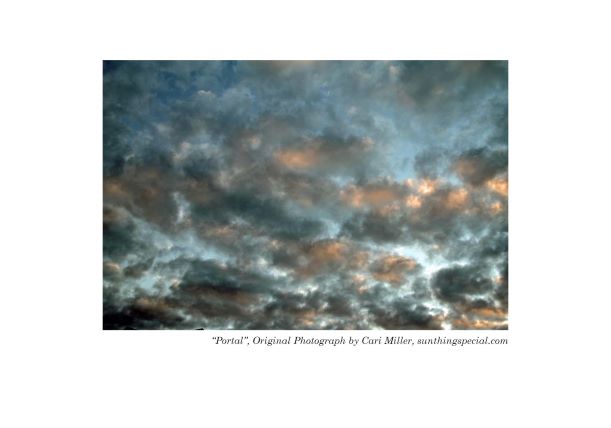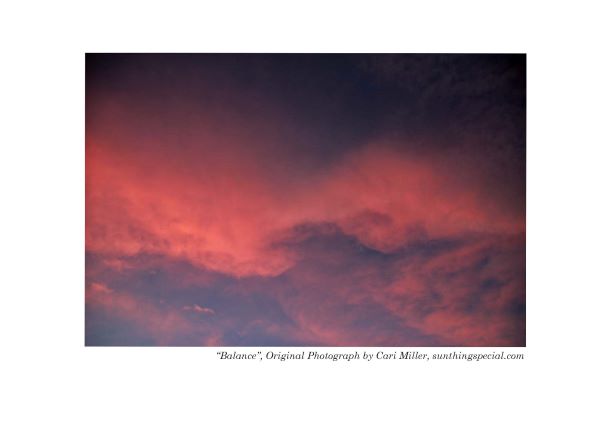 What else should you know about me?
I'm a pretty much self-taught artist who works out of my home in Akron, Ohio

I am best known for my acrylic paintings on canvas, photography, works with recycled objects and works that promote the City of Akron.

I also use other media like markers, watercolors, color pencils, pastels, clay, etc.

I am known for my "happy" art

One of my small claims to fame is having

six of my sun images on "CBS Sunday Morning" a total of at least 12 times!

Click "Publicity" on the right to see actual clips from the shows.

The first image below is the most popular: "Night and Day 2002".

Another piece was used as "wallpaper".

They also used "Night and Day 2002" in a graphic which opened a segment on how suns are chosen for the show, and "Sun Swirl 2014" is on the show's slide show of just 37 of the 9,000+ suns shown over the show's 40-year history.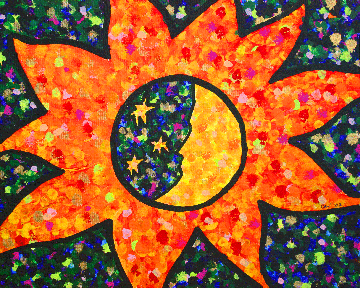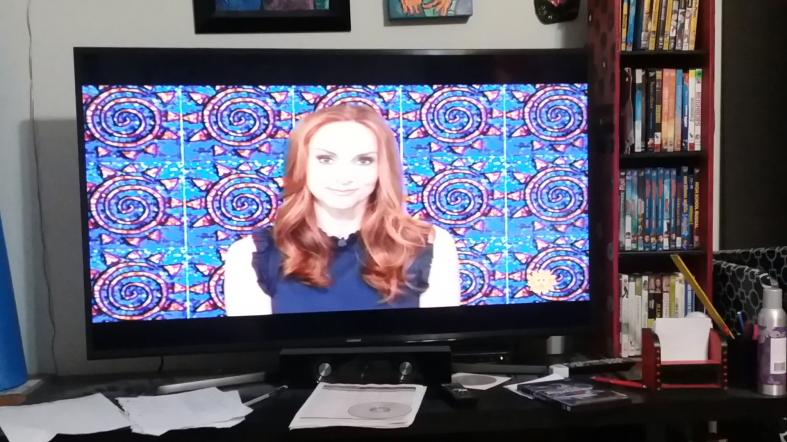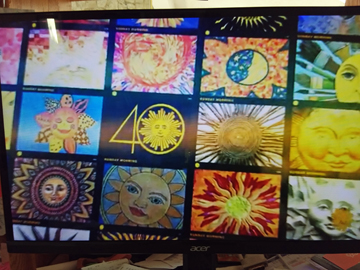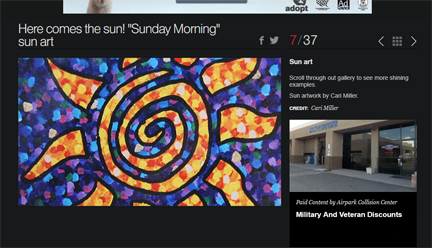 My Etsy Shop (with select items) 
This Website: I had to redo this site so it is kind of an incomplete mess. I will try to update it as I can. :)
To Contact Me: please email me at This email address is being protected from spambots. You need JavaScript enabled to view it. or call/text me at 330-208-5693.